Democratizing Simulation: From Computational Models to Simulation Applications
Mar 26, 2019
2:00 PM - 2:30 PM EDT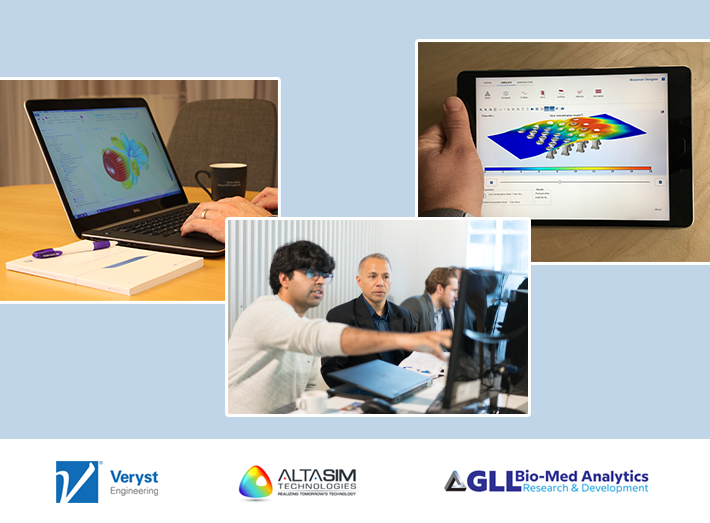 Tune into this webinar to learn about extending your finite element analysis and CFD models into custom simulation applications that can be used by anyone. Simulation applications are useful for all aspects and departments of your workplace: R&D, process design, manufacturing, and so forth. Furthermore, COMSOL's deployment tools enable nonexperts to easily access and run these applications.
You will hear from guest speakers working with organizations where simulation applications fit right into existing workflows, making the companies more efficient. You will also learn how an application can empower everyone in your organization, from the design expert to the operator on the factory floor, to use computational modeling.
Register for Democratizing Simulation: From Computational Models to Simulation Applications
Mar 26, 2019
2:00 PM - 2:30 PM EDT
Log in or sign up to register. A COMSOL Access account is required to attend Democratizing Simulation: From Computational Models to Simulation Applications.
Webinar Details
Date and Time
Mar 26, 2019 | 2:00 PM EDT (UTC-04:00)
Speakers
Nagi Elabbasi
Veryst Engineering, LLC.
Dr. Nagi Elabbasi is a principal engineer at Veryst Engineering, LLC, and his main area of expertise is modeling multiphysics systems. Dr. Elabbasi has extensive experience in simulating structural mechanics, CFD, heat transfer, acoustics, and coupled systems, including FSI, conjugate heat transfer, and structural-acoustic coupling. Prior to joining Veryst, he worked for nine years in finite element software development. He holds a PhD in mechanical engineering from the University of Toronto.
Kyle Koppenhoefer
AltaSim Technologies
Kyle Koppenhoefer has been one of the principals and leaders at AltaSim Technologies for 15 years. He works with customers to identify how computational analysis can be used to further develop their products and manufacturing processes. Prior to cofounding AltaSim, Kyle worked for the Department of Defense and the Edison Welding Institute. He holds a PhD in civil engineering from the University of Illinois.
Gary Long
GLL
Gary Long is principal at GLL Bio-Med Analytics and has over 30 years experience in medical device development. Dr. Long has been a regular user of the COMSOL® software for 18 years. He currently consults with early-stage medical device companies to develop therapeutic devices with an emphasis on computer simulations using COMSOL Multiphysics®.
Yeswanth Rao
COMSOL
Yeswanth Rao is a technical sales manager and has been with COMSOL since early 2008. He holds a PhD in biological engineering and a master's degree in electrical engineering. His finite element background is in MEMS, particularly piezoelectric modeling.
Daniel Ericsson
COMSOL
Daniel Ericsson is the global application product manager at COMSOL. He has dedicated his professional life to bringing multiphysics modeling and simulation to engineers and scientists. He has a solid technical background and a deep understanding of how organizations can adopt and benefit from simulation.