Multiphysics Modeling Using COMSOL®: A First Principle Approach
Roger W. Pryor, PhD
COMSOL Multiphysics® software is the most popular software modeling tool for engineers and scientists. With the recent release of v.4.0, it allows the user to create simulated environments for computerized modeling of physical systems and devices. Designed for use by the professional engineer or in a senior level course, Multiphysics Modeling Using COMSOL v.4 explores a wide range of models in coordinate systems from 1D to 3D and introduces the readers to the numerical analysis techniques employed in the COMSOL Multiphysics® software. It focuses on models from the electromagnetic, electronic, optical, thermal physics, and biomedical areas as examples for later applications used in the development of devices and systems. The text includes executable code for each model and related animations on the accompanying DVD.
The second approach is based on the finite element method. This makes it possible to solve each problem with greater precision, but with the requirement of a longer (and often more expensive) implementation. This parallel approach to the problem-solving process provides the reader with the options and advantages of taking either of the different approaches, allowing for a more informed decision when applying these methods. The inclusion of practical exercises and solutions also allows the reader to further their understanding by applying these methods to real-life cases.
Features:
Focuses on COMSOL 4.0 models that demonstrate the use of concepts in the electronic, electromagnetic, optical, thermal physics, and biophysics areas for later application in areas comprising engineering, science, medicine, and biophysics for development of devices and systems
Includes detailed discussions of possible modeling errors and results
Uses a step-by-step modeling methodology linked to the Fundamental Laws of Physics that are relevant to the problem and correlates them with the observed behaviors demonstrated in each multiphysics model
Includes a DVD with executable copies of each model, related animations, and a free trial version of the complete PKS-MPD Materials Properties Database from Pryor Knowledge Systems
About the Author
Roger Pryor, a COMSOL Certified Consultant, completed his PhD in physics at Pennsylvania State University. His postgraduate career has included positions in both industrial and academic research, management, and teaching. He has been granted 23 US Patents. In his current position as the VP of Research for Pryor Knowledge Systems, Inc., he advises clients on the solution of both research and production level problems.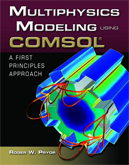 Purchase this book