Tell All Your Friends About the COMSOL Conference 2013
As many of you may know, we have officially announced the dates for the COMSOL Conference 2013. Did you also know that we are continuously sharing updates, deadline reminders, past published Conference User Presentations, and more through social media? Follow our social pages to make sure you have up-to-date information regarding the Conference (among other things) — don't forget to share this content with your friends and colleagues, too.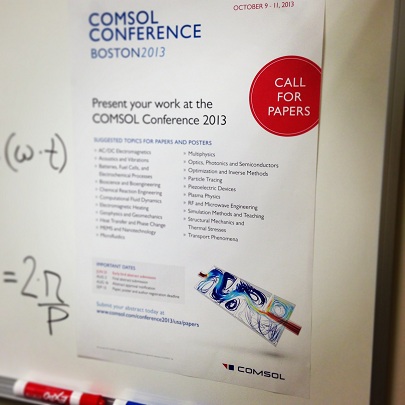 Social Media and the COMSOL Conference 2013
The COMSOL Conference is an ever-growing event and there's a lot to keep you informed about. With that said, what's a better place to spread our news and excitement than on Twitter? As we all know, Twitter moves at a fast pace, thus making it the perfect place for followers to stay in the loop on Conference details (and many other things, too). We tweet reminders for early bird and savings deadlines, and even deadlines to remind attendees to book their hotels at the special attendee rates. We offer tips, news on keynote talks, and what minicourses will be offered. Tweeting allows us to keep you engaged and at times we'll give you sneak peeks of what's to come at the event. To distinguish our Conference tweets from our other ones, we use the hashtag #COMSOLconf13, and encourage you to use it too. Follow @COMSOL_inc on Twitter.
Facebook is another great platform for our users to interact with one another. In the past it has been a great place for Conference attendees to share their experience. For instance, last year we hosted a Facebook contest that was a huge hit; attendees of the COMSOL Conference Bangalore 2012 were asked to share their feedback on our Facebook page, and the comment with the most "likes" won a prize. Like our page on Facebook.
To fit in with the more professional networking outlet, our LinkedIn page offers less frequent updates than our other social pages. We will post major event deadlines here, in addition to our usual updates. In the near future we also hope to link COMSOL Conference registration with LinkedIn so you can alert your professional connections that you will be attending the event. Join fellow engineers, scientists, professors, students, or colleagues and follow COMSOL on LinkedIn.
By adding COMSOL to your circles on Google+ you will automatically have Conference updates appear on your feed when we post them. Updates vary from deadlines to Conference blog posts, and more in between. If you want to know what is happening for the COMSOL Conference 2013, and you're on Google+, this is the social outlet for you. Add us to your circle on Google+.
Download the Call for Papers Invitation and Poster
We're not restricting you to sharing COMSOL Conference 2013 updates through social media, though. We also have some promotional pieces available for instant download: our Call for Papers Invitation and our Call for Papers Poster. (The poster might look nice on your noticeboard?)
So whether you're sharing on social media or in the real world, remember to tell all your friends and colleagues about the COMSOL Conference 2013!
---
---
|
© 2017 by COMSOL Inc. All rights reserved