Meet the Program Committee for the COMSOL Conference Boston 2013
Each year, a program committee is formed about six months prior to the conference day. This is always a sign to me that a brand new conference season has formally started. Working with the program committee has been one of the most inspiring and joyful parts of my involvement with the user's conference, and I certainly feel the same way about the program committee for the COMSOL Conference Boston 2013.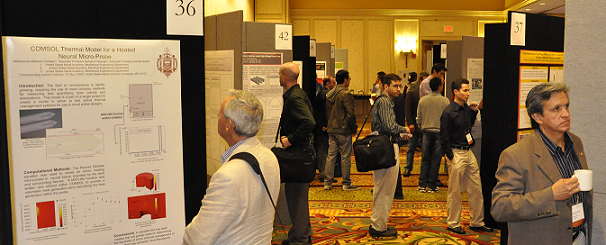 The Program Committee for the COMSOL Conference Boston 2013
The committee consists of a panel of experts in their respective fields, which brings top notch technical know-how to guarantee a high-quality conference program. The committee members truly understand the physics and are highly skilled at COMSOL modeling, which is why they are the ones who review the submitted abstracts and vote for the best papers. It's a great pleasure to be able to work with this amazing group of people, and it is my honor to introduce you to the program committee for COMSOL Conference Boston 2013:
Arlen Ward, Covidien
Brian Poole, Lawrence Livermore National Laboratory
Campbell Scott, IBM
Carlos López, Intel
Chris Menzel, Fujifilm
Cila Herman, Johns Hopkins University
Jim Knox, NASA
Joe Hartvigsen, Ceramatec
Joel Plawsky, Rensselaer Polytechnic Institute
Luiz Jovelli, Siemens Brazil
Marcus Roper, UCLA
Matthew Hancock, Broad Institute of MIT and Harvard
Peter Woytowitz, Lam Research
Richard Hart, the Ohio State University
Samir Khanna, BP
Sean Eichenlaub, PepsiCo
Siva Gurrum, Texas Instruments
Violeta Prieto, U.S. Army Research Laboratory
Words from the Program Committee
Matthew Hancock, a scientist from Broad Institute of MIT and Harvard wrote to me: "I'm excited to serve on the Program Committee for COMSOL Conference 2013. I very much look forward to hearing about all the interesting new projects involving COMSOL, as well as interacting with COMSOL users and researchers from across the world."
Professor Joel Plawsky from Rensselaer Polytechnic Institute told me that he has been using COMSOL Multiphysics ever since version 2, and has found it very useful for both teaching and research applications. "I've enjoyed going to the user's conferences and getting ideas of what is possible using COMSOL and picking up tips and tricks as well. I am happy to serve on the program committee, and since I have a textbook on transport phenomena that makes use of COMSOL, being able to see what folks are doing as part of that committee will provide me with a lot of useful ideas and applications that I might be able to simplify for future editions."
I am impressed by the excitement and commitment these words demonstrate, and I believe the same spirit is shared by the other sixteen program committee members who are on board with them.
Onward to Boston
So the program committee is now in place, and is eager to see what you have been using COMSOL Multiphysics for. Now the question they ask you is: Are you ready to submit your work?
We look forward to receiving your submissions and viewing incredible works from all of you!
---
---
|
© 2017 by COMSOL Inc. All rights reserved