Making Nonlinear Structural Materials Available to Multiphysics Users
When dealing with structural analysis problems with large structural deformations or high temperatures, you'll notice that you are unable to utilize linear material models due to nonlinearities in the material properties. This calls for our new Nonlinear Structural Materials Module.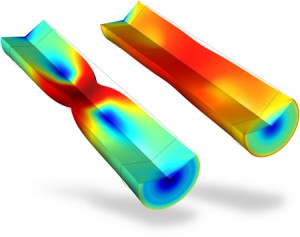 The model above shows a circular bar with large deformations that result from a uniaxial tensile test. As seen, there is large scale plasticity and necking occurring in the bar's central cross section. This simulation was created using the large strain plasticity option available in the Nonlinear Structural Materials Module combined with the (also new!) Double Dogleg solver.
As you may have already deduced, version 4.3 is opening up a lot of new simulation possibilities, and it is with this module that we are for the first time bringing nonlinear structural materials into the multiphysics environment. As it will be a valuable supplement to the Structural Mechanics and MEMS modules, all current license-holders of these two modules will receive the Nonlinear Structural Materials Module free-of-charge.
Benefiting a wide range of structural analysis users, this new module brings with it a number of mathematical models, including Ogden, Arruda-Boyce, Anand, and Norton, to name a few. Check out a comprehensive list of supported mathematical models in the Nonlinear Structural Materials Module here.
---
---
|
© 2017 by COMSOL Inc. All rights reserved