IOP Webinar June 21: Introducing COMSOL Multiphysics Version 4.3
Did you miss the webinar we held earlier this month introducing our new release? You will have a second chance at partaking on June 21st. This live online session is hosted by IOP and is scheduled to take place at a convenient time for our European audience, but the event is open to anyone who wishes to attend.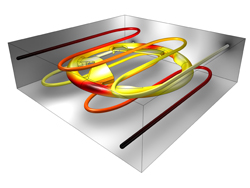 At 2pm London local time (that's 9am Eastern Time) Phil Kinnane, VP of Business Development at COMSOL, will sign on to provide you with a 45-minute introduction to COMSOL Multiphysics Version 4.3. The webinar will include an overview of the three new modules for 4.3 as well as further insight into the new features that were built into this version of our multiphysics simulations software.
There will also be a Q&A session at the end of the webinar, so come prepared and Phil will answer your questions!
Attendance is free-of-charge, but registration is required.
Register for the webinar Introducing COMSOL Multiphysics Version 4.3 here.
---