Discover what Industry Leaders are working on in COMSOL News 2012
Over the past couple of months I have mentioned several user stories that were to be featured in the upcoming edition of COMSOL News. Our multiphysics simulation magazine just came off the press and I'm happy to announce that it's first made available here.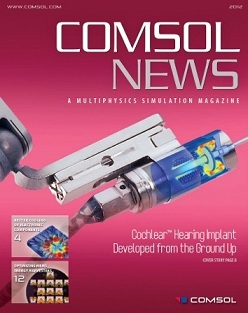 The 2012 Edition of COMSOL News contains 26 user stories spread across 72 pages. On the cover there is an image of an actuator that when embedded in the ear cavity will mimic the natural hearing pathway. This is a breakthrough for those plagued by hearing loss — the implantable device may be able to solve previously untreatable hearing defects. Read more about the Direct Acoustic Cochlear Implant and view the associated models in COMSOL News 2012.
If you were intrigued by the blog post I wrote on neuromodulation in "What's the Nature of Pain?" you should check out the full story about "Modeling Scar Effects on Electrical Spinal Cord Stimulation" on page 27 in COMSOL News. There are also many other fascinating articles about projects spanning general multiphysics, electrical, heat transfer, fluid flow, mechanical, and chemical application areas.
You can gain access to the latest edition of COMSOL News instantly as a PDF or request it as a hard-copy. This publication is free-of-charge.
---
---
|
© 2017 by COMSOL Inc. All rights reserved